Checkbilliard
Systematic

Training •

for Beginners and Professionals
Checkbilliard represents a quantum leap in billiard training methodology for enthusiastic beginners, ambitious tournament players or even for experienced top players.
With a series of tests and exercises we proof your abilities, analyze your skills and find your strengths and weaknesses – if you have any.
Based on these analysis, we provide you with individual exercises, instructions and workouts corresponding to your level of play. Hundreds of HD-Video support you here and your skills will be improved "step by step".
So Checkbilliard is your "Personal Pool Instructor" – available at all times!
A Video-Sample
out of hundreds of Videos
The Structure ot the Trainings-App
Test Overview
structured by

Member

Status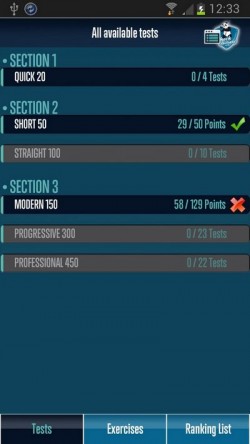 Check Billiards proofs your playing assets (skills) with a series of tests.
It starts with the "QUICK 20" and, depending on your skills, this system takes you in the other test series up to the "PROFESSIONAL 450".
The sections 1 – 2 with tests, videos and exercises are available for free. The extensive section 3 with intensive tests, personal analysis and training sessions, workouts, premium support, and the huge video library with hundreds of HD video is ready for our "Gold Member".
Test Series
We check your Player A

ssets
Clean organized you can find the individual exercises which form a series of tests.
These are to be played in order and will check your skills in various sub-areas such as speed, accuracy, impact quality, position play, draw and follow shots, and more.
Of course you can work out on completed tasks again. The individual results can only be changed by a new test.
Hundreds of Exercises
with detailed Instructions and V

ideos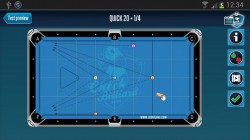 Here the detailed graphs how the exercises are positioned on the table – of course you can enlarge them.
You will also find:
The full description of

exercises

and tasks.
The simple rules for

each

exercise (what is allowed, what is not and what is must).
Brilliant HD

videos for

each exercise played by well-known top players.
C

omfortable

entering your results.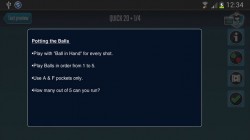 Easy to understand, the respective exercises and goals are described in the instructions.
For some tasks, you can find additional information here such as rule explanations, etc.
The workouts, so the "exercise-exercises" to your personal training plan, have different "long-term goals" and tasks, which are fully explained and described at this point.
Hundreds of Videos
Explanatory, Intruction and Exercise V

ideos
In hundreds of videos, various top and world-class players show you, how they solve the same tasks that you get asked.
You will see how they act with different approaches, postures, methodologies and techniques to cope with the task.
"Learning by watching" – You will only be able to play as good, like what you see!
Moreover, in the unique video library you'll find an extensive collection of instructional videos with commentary and explanation.
"Basics" such as stance, grip, and posture are here explained by the best instructors in the world as well as very specific techniques up to "Follow-Slide-Shots", Replacement Shots and many more.
This collection will be enriched and expanded continuously.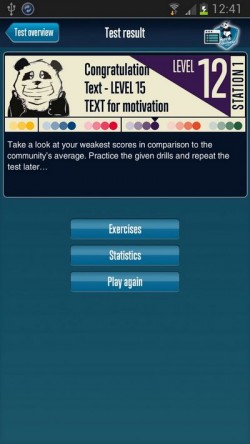 At the end of each test, there is the evaluation. Here you receive the instructions HOW you have to continue in YOUR personal training plan. Either with further tests, to analyze your skills more detailed or with workouts and exercises to practice your shortcomings in the respective areas.
Checky, our Panda, shows you with his emotions even as "satisfied" he is with your result. The color code reflects the Checkbilliard Badge, which you can receive from your coach or examiner in the future. In an "real audition test", which you can pursue in front of an examiner,  this would then be also the result for the official and worldwide rankings.
Personal Analysis
and your

individual Training Plan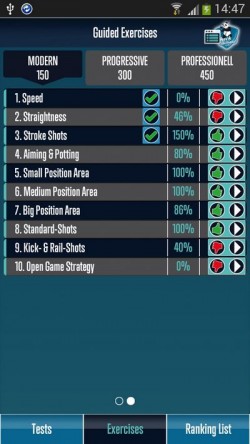 As "Gold Member" here you receive detailed analysis of your game assets, so your current skills. Various "Skills", ie skills that you need at the pool table, are analyzed and evaluated separately.
Depending on your results, a red or green thumb shows you how you did in the test and where you need the help most with intensive training.
You need not work on the green thumbs – but you may if you like to do. But you must practice on the red thumbs in ascending order to improve your deficits. Where ever the 3 lowest deficits (if there are 3) has to be practiced first. When you solve the first task, the 4th red thumb is unlocked for training, etc.
Your Training Tasks
Weaknesses turn to S

trengths
Regarding to your identified weaknesses, you always receive 3 tasks (drills) from Checkbilliard. These 3 tasks increase in difficulty, and thus develop your skills at the pool table – Step by Step!
Be honor to yourself, and we guarantee your improvement!
ATTENTION! These are not tests. You receive tasks, drills or workouts they have to be mastered. They can be so called "TO-DO Tasks" as well as "Quality Goals" or "Performance Goals" which are quite demanding and may extend over longer periods. Stay focused!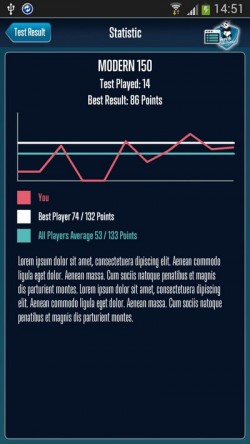 This tool will help you and Checkbilliard, as your coach, to track your development. Here you can compare or you measure the average of the last 100 players in the same series of tests like the best result in each case in the respective test series.
The more often you do one and the same test, the more "measurement points" you can find in your statistics.
But don't worry – our system is ascending, and if you start today as a beginner with e.g. 53 points obtained in "MODERN 150", and will end up in years in the "PROFESSIONAL 450" at 410 points. Then you have trained not only a tremendous amount and also effective, you can also track your "development curve" over the period, displayed graphically, and analyze your "downs" (e.g. stress in your job) and "heights" (possibly a new love) – objective.